HI Guys,\
As per this article when browsing on a site with the default mobile view feature enabled I would be able to upload a document to sharepoint libraries by clicking a + sign at the bottom of my page. However trying same on my mobile browser ( an Android 4.2.2 phone Browser Chrome 42.0.2311.) I'm not able to see the blue ribbon at the bottom of the page that would provide me with the functions to interact with the page.
Grateful if you could help!
Article: http://www.c-sharpcorner.com/UploadFile/deeptinahar/working-with-sharepoint-2013-online-sites-on-mobile-devices/
Screenshot in Article: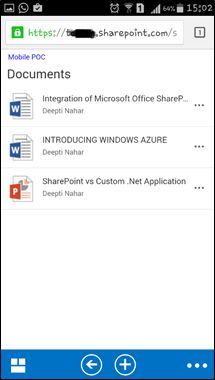 Screenshot on my Mobile Browser:
Thanks and Regards,
Rhyan.